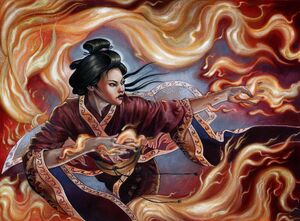 Isawa Shioki was a Fire and Water Alchemist Shugenja of the Phoenix Clan.
Shioki had great pride in her family and as a child had been trained in both the Isawa Shugenja school and the Agasha Alchemist school giving her the dual gifts of the movement of the waves from her Water training and the destructive nature and agression of Fire training. [citation needed]
She served with Asako Bairei in the alliance between Unicorn, Mantis and Phoenix. [citation needed]
External Links
Edit