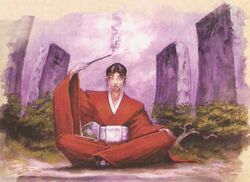 Isawa Nomi was an Earth Shugenja of the Phoenix Clan. She was the student of the Master of Earth Isawa Sachi, [1] and she was later offered a chance to study with the following Master of Earth, the lecherous Isawa Emori, due to her "magnificent attention to detail". [2]
Sezaru's Madness
Edit
During Isawa Sezaru's hunt for Bloodspeakers she was tending a temple at Honored Treaty City. In 1168 the Wolf appeared and she was accused by him of being a maho-tsukai, which she denied vehemently. Her life was spared due to the intervention of Shiba Mirabu. [3]
High Priestess
Edit
In 1169, following the Khan's attack on the capital, the Battle of Toshi Ranbo, Shiba Ningen suggested her to Seppun Kiharu as a candidate to replace the High Priest of the High Temple of Toshi Ranbo as the previous high priest had been among the casualities. [2]
Isawa Fosuta was uncle of Nomi. Whe Fosuta joined the Lost, becoming a traitor, his brother hunting him to cleanse the stain of his family, but died before he could destroy the betrayer. [4]
Winter Court 1170
Edit
Nomi was in attendance at the Winter court at Kyuden Bayushi in winter 1170-1171. In 1171 she had been plagued by nightmares about the traitor Isawa Fosuta when she awoke to a vision of Utaku Reyo's heroic sacrifice in the Ki-Rin's Shrine. She painted the image of the Utaku Battle Maiden on top of a Ki-rin with such skill that when Empress Iweko I saw the painting, a single tear fell down her cheek. [4]
External Links
Edit
References
Ad blocker interference detected!
Wikia is a free-to-use site that makes money from advertising. We have a modified experience for viewers using ad blockers

Wikia is not accessible if you've made further modifications. Remove the custom ad blocker rule(s) and the page will load as expected.