Isawa Mitori was a Judge, Shugenja of the Phoenix Clan and Oracle of Fire.
Mitori had a brother, Isawa Norikazu. Mitori always been the stronger one, and they had been very close as children. Even as they grew older, and Norikazu's "gift" became more and more of a burden, his brother never looked at him strangely or treated him any differently. He was a truly good and honorable soul, and it gave Norikazu great pride to call him brother. [1]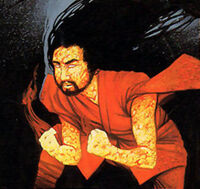 Norikazu had become the Oracle of Fire, and Mitori began to change with a sickness that Norikazu recognized. It was the same illness that had brought him low as a child. Norikazu's horror grew as he watched his brother sicken and die, unable to defeat the illness as the prophet had so many years ago. For the first time since becoming the Oracle of Fire, Norikazu felt true fear. He surely would not have survived if not for his brother's constant support and friendship. [1]
Oracle of fire
Edit
There was only one means by which Mitori could be saved, but it would mean the ultimate sacrifice for Norikazu. Norikazu died when he passed the mantle of the Oracle of Fire to his brother. [1] Mitori did not establish himself in a fixed location, and he instead wandered among humanity, posing as just another mortal. [2]
Elemental Nemuranai
Edit
During Fu Leng's assault to the Celestial Heavens, the Celestial Order was in serious jeopardy. To maintain ihe balance, the Heavens withdrew their influence from Ningen-do, bringing the Oracles of Light, with them. Before the Oracles departed, and for the second time in history, the Oracles came together to craft an Elemental Nemuranai of such potency that a single mortal could turn the tide against the darkness. [3] Mitori crafted the Yumi of Fire. [4]
Retirement
Edit
In 1200 the Oracles of Light held a Conclave, but it was Isawa Koizumi who attended it as Oracle of Air. [5]
External Links
Edit
References
Ad blocker interference detected!
Wikia is a free-to-use site that makes money from advertising. We have a modified experience for viewers using ad blockers

Wikia is not accessible if you've made further modifications. Remove the custom ad blocker rule(s) and the page will load as expected.