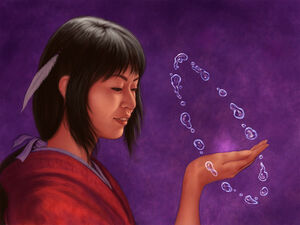 Iwawa Miniko was a water shugenja of the Phoenix Clan.
Miniko was something of an enigma within her clan. During the War of Fire and Thunder, she found that she enjoyed the chaos and fortunes of war, and was actually looking forward to assaulting the Mantis Islands, though she did feel regret that shadowlands agents had instigated the war.
Since then, Miniko has loudly proclaimed the normal Phoenix desire for peace. In her case, she actually hopes that other clans will see this as a weakness, and that soon she might face battle again. [1]
See also
Edit
External Links
Edit
References
↑ Masters of Magic, p. 108