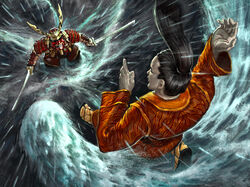 Isawa Kojiro was a water shugenja of the Phoenix Clan.
Isawa Hikarou was his brother. [citation needed]
Family Matters
Edit
In 1196 Kojiro met his cousin Isawa Shijiko, and did not pass the opportunity to look down on her for being unable to speak with the kami. In 1197 Shijiko was instrumental in the elevation of Doji Kurohito as Fortune of Perfection. As a sign of the Crane Clan's gratitude to Shijiko and the Phoenix, the Crane Clan Champion Doji Makoto asked for a shugenja from her close kin be assigned to the temple for Doji Kurohito. Shijiko selected her cousin as her petty revenge against him. [1]
Colonies
Edit
Kojiro was appointed in the Colonies, and somehow he confronted and was taken hostage by Moto Morio. Another account said he was taken hostage by a member of the Zokujin race, [2] the crature known as Zlkyt. [3]
Anvil of Earth
Edit
Eventually Kojiro discovered the Anvil of Earth, an Elemental Nemuranai. [4]
External Links
Edit
References