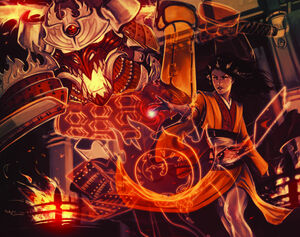 Isawa Kido was an air shugenja of the Phoenix Clan.
Imperial Court
Edit
In 1199 the Lion Clan made allegations of Scorpion smuggling and also about the ambush of a Lion patrol in the highways near the Imperial City, which were dismissed as untrue by the Scorpion representative Bayushi Fuyuko. Doji Natsuyo, Kitsuki Kira and Isawa Kido all sought to avoid unnecessary bloodshed, but it was expected the Empress Iweko I would grant the Lion permission to wage war against the Scorpion. [1]
External Links
Edit
References
Ad blocker interference detected!
Wikia is a free-to-use site that makes money from advertising. We have a modified experience for viewers using ad blockers

Wikia is not accessible if you've made further modifications. Remove the custom ad blocker rule(s) and the page will load as expected.