Isawa Kaname was a fire shugenja and yojimbo of the Phoenix Clan.
Kaname was appointed as advisor to the Ruby Champion. [1]
Jade Champion
Edit
Kaname became the new Jade Champion [2] after Asahina Nanae retired. Her true talents laid in management of authority and choosing the right subordinates. [3]
Spiritual Threat to the Empire
Edit
In 1199 her assistant Asahina Sodayu passed to Kaname an astrological report produced by Isawa Nairuko, a priestress who found a spiritual threat to the Empire. She believed the Moto family had a curse in their bloodline, and anyone of Moto blood drew ill fortune, which they passed to the descendant they bore with the members of other families. Sodayu did not find any flaw, and the report was praised by the Elemental Council in front of the Jade Champion. Kaname had already reported it to the Iuchi family, who politely dismissed her, and the Moto rebuffed every of her attempts to approach them. Once the notice was spread the Unicorn considered it a Phoenix insult. [4]
New Dark Oracles
Edit
Her advisor soshi Yoshihara disappeared, and later she revealed herself as the chosen Dark Oracle of Air. [5]
External Links
Edit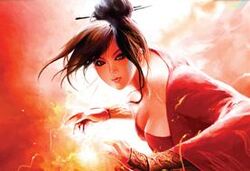 References
Ad blocker interference detected!
Wikia is a free-to-use site that makes money from advertising. We have a modified experience for viewers using ad blockers

Wikia is not accessible if you've made further modifications. Remove the custom ad blocker rule(s) and the page will load as expected.