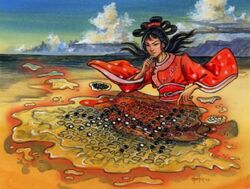 Isawa Jumon was a shugenja of the Phoenix Clan and a member of the Bloodspeaker.
Blood Hunt
Edit
When the Blood Hunt began in 1166, Jumon revealed herself as a bloodspeaker when she succumbed to madness and murdered several Badger in court. Iuchiban had ordered his servants to attack the Empire. after the murderers she fled to the mountains near the ruins of Shiro Ichiro. Jumon killed an Ichiro guard, and laid a trap for her hunters, leaving the body where they would see it and descend to investigate. At that moment she would fell an avalanche of rocks that would kill them. The plan did not work properly, and fled, after she and an Asako Inquisitor, Asako Soun, cast several spells. [1]
External Links
Edit
References
Ad blocker interference detected!
Wikia is a free-to-use site that makes money from advertising. We have a modified experience for viewers using ad blockers

Wikia is not accessible if you've made further modifications. Remove the custom ad blocker rule(s) and the page will load as expected.