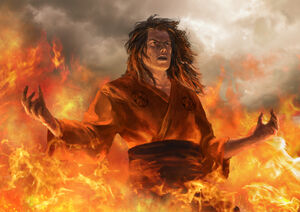 Isawa Ikariya was a fire shugenja of the Phoenix Clan.
War with the Unicorn
Edit
Ikariya was one of the most promising students of Master of Fire Isawa Koiso. Recent changes placed all shugenja under the command of the ranking officers, and Ikariya was under the command of nikutai Shiba Danjiro. In 1200 the Phoenix confronted the Unicorn, and his clan won the battle with the aid of the Master of Earth Isawa Norimichi himself. [1]
External Links
Edit
References
Ad blocker interference detected!
Wikia is a free-to-use site that makes money from advertising. We have a modified experience for viewers using ad blockers

Wikia is not accessible if you've made further modifications. Remove the custom ad blocker rule(s) and the page will load as expected.