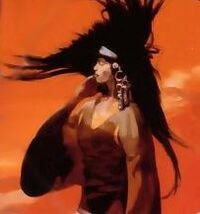 Isawa Ihara was a shugenja of the Phoenix Clan.
Demeanor
Edit
Ihara was once a shy, reclusive young woman. After she met Shiba Aikune, and was exposed to the Isawa's Last Wish, Ihara's demeanor turned, becoming an intense, passionate, and temperamental woman, follower of Aikune. At Kyuden Isawa she explained his motives and actions to others among the Isawa. [1]
Dragon-Phoenix War
Edit
Her link to the Wish fuelled his wishes to attack the Ki-Rin's Shrine in the Dragon-Phoenix War, being the shrine selected many centuries ago as the place where the Wish was to be held. [2] When she saw Aikune unleashing its power, she knew it was a mistake, as many Phoenix died alongside with his Dragon opponents, scorched by the power of the nemuranai. Aikune asked her to train in its control, so he could control the Wish properly. [3]
Next Master of Air
Edit
Isawa Nakamuro selected Ihara as his replacement as Master of Air if he died during the investigation of the Dark Oracle of Fire. [4]
External Links
Edit
References
Ad blocker interference detected!
Wikia is a free-to-use site that makes money from advertising. We have a modified experience for viewers using ad blockers

Wikia is not accessible if you've made further modifications. Remove the custom ad blocker rule(s) and the page will load as expected.