Isawa Hinata was a Fire shugenja of the Phoenix Clan in the Colonies.
Colonies
Edit
Hinata was appointed in the Colonies, and in 1198 she greeted Agasha Kurou, master alchemist and Agasha Daimyo, who had arrived from the Empire. [1]
P'an Ku's Madness
Edit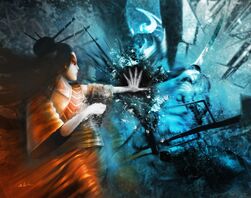 Eventually in 1199 Hinata was attacked by Yoritomo Kanaye, a Mantis magistrate who had fallen under P'an Ku's madness. Hinata was forced to defend herself, [2] and killed Kanaye. [3] Hinata also fought another Mantis, Aranai, but the shugenja took her as hostage. [4]
External Links
Edit
References
Ad blocker interference detected!
Wikia is a free-to-use site that makes money from advertising. We have a modified experience for viewers using ad blockers

Wikia is not accessible if you've made further modifications. Remove the custom ad blocker rule(s) and the page will load as expected.