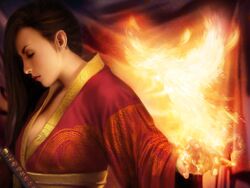 Isawa Hachiko was a void shugenja and ishiken of the Phoenix Clan.
Destroyer War
Edit
During the Destroyer War Hachiko used her connection to the Void to get insight on the nature of the Destroyers. The intent almost destroyed her. [1]
External Links
Edit
References
Ad blocker interference detected!
Wikia is a free-to-use site that makes money from advertising. We have a modified experience for viewers using ad blockers

Wikia is not accessible if you've made further modifications. Remove the custom ad blocker rule(s) and the page will load as expected.