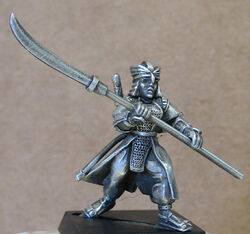 Isawa Elite Pikemen was a Phoenix unit comprised by those Isawa without the gift of speak to the kami, who turned to the Shiba Bushi school. Many demonstrated natural talents with yari while lacking the more subtle skills required for the katana. [1]
See also
Edit
References
↑ Clan War: Phoenix Army Expansion, p. 58
Ad blocker interference detected!
Wikia is a free-to-use site that makes money from advertising. We have a modified experience for viewers using ad blockers

Wikia is not accessible if you've made further modifications. Remove the custom ad blocker rule(s) and the page will load as expected.