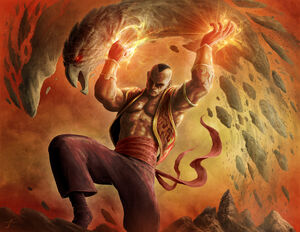 Isawa Amihiko was a mountaineer and earth shugenja of the Phoenix Clan.
Earth Kami
Edit
Amihiko and his yojimbo Shiba Michiki visited the governor Doji Etsuki. The Crane had placed a commemorative statue of the three children of the Empress Iweko I within the center of the village around his estate. Amihiko warned that the earth kami had been offended by the new statue, which carved entirely from a piece of marble by a Kitsu sculptor, evoked the fluid, changing nature of water. Etsuki rejected to destroy the statue, despite Amihiko told the harvest would be unlikely to improve until the earth kami were placated. [1]
External Links
Edit
References
Ad blocker interference detected!
Wikia is a free-to-use site that makes money from advertising. We have a modified experience for viewers using ad blockers

Wikia is not accessible if you've made further modifications. Remove the custom ad blocker rule(s) and the page will load as expected.