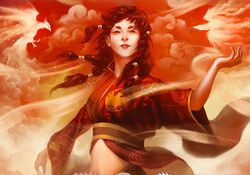 Isawa Akime was an air shugenja-ko of the Phoenix Clan.
Seeking the Wish
Edit
In 1200 the Children of the Last Wish appeared in the Seven Temples of the Seven Fortunes. They told that Gisei Toshi would be doomed because nobody had sought Isawa Genma, who had left the city to find the Isawa's Last Wish, only to be slain by thieves who seized the Wish. Akime vowed to seek the Wish, in order to atone their failure. The Child accepted to let Gisei Toshi to survive, but Isawa Mochiko reminded she would never be allowed to return to the city, because Akime was breaking her sacred oath to the city. [1] Genma had been killed by Yoritomo Minoro, who had seized a Golden Tanto, the last remnants of the Wish. [2]
External Links
Edit
References
Ad blocker interference detected!
Wikia is a free-to-use site that makes money from advertising. We have a modified experience for viewers using ad blockers

Wikia is not accessible if you've made further modifications. Remove the custom ad blocker rule(s) and the page will load as expected.