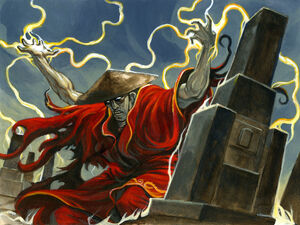 Isawa Aiya was an Earth shugenja of the Phoenix Clan.
Aiya was pleasant, humble, and quite learned in a number of different areas, including history, philosophy, and theology. He was a veteran of the War of Fire and Snow, and after that conflict, Aiya resigned his commission in the Avalanche Guard and turned his back on violence forever. [1]
Changed Demeanor
Edit
Aiya became a pacifistic, with a strong soul one even stronger then death. He used the protective nature and knowledge of earth to protect himself. He hated the slaughter of others even to the point of endangering his own life. [citation needed]
Aiya was appointed in the minor and remote court of the Provincial Governor Chuyo. Aiya found the behavior of Doji Fujie disgusting, and had a healthy degree of pity for the governor as well. Aiya became part of a group which were sent by Chuyo to find the Book of Shadows, the alleguedly lost Seventh Book of Enlightenment. [2] He recovered the book alongside Doji Fujie and Bayushi Ryuu. [3]
External Links
Edit
References
Ad blocker interference detected!
Wikia is a free-to-use site that makes money from advertising. We have a modified experience for viewers using ad blockers

Wikia is not accessible if you've made further modifications. Remove the custom ad blocker rule(s) and the page will load as expected.