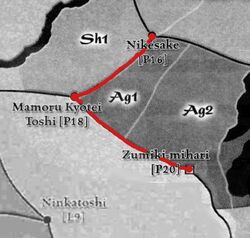 Isawa's Blade was the road that connected Nikesake (P16) to Honored Treaty City (P18) to Zumiki-mihari (P20). It marked the border between Phoenix lands and those of the Dragon, Crane, and Lion Clans. An Otomo cartographer assigned the name when he noticed the road's sharp, pointed shape on the maps of what were then the Isawa provinces. [1]
References
↑ Secrets of the Phoenix, p. 17
Ad blocker interference detected!
Wikia is a free-to-use site that makes money from advertising. We have a modified experience for viewers using ad blockers

Wikia is not accessible if you've made further modifications. Remove the custom ad blocker rule(s) and the page will load as expected.