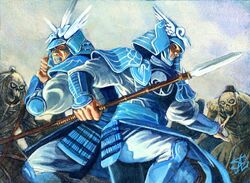 Iron Pillar was a Crane Battlefield Formation formed by two to three ranks of heavily armored soldiers, but with only one rank of the formation engaging the enemy at a time, and periodically the front rank fell back behind the rest, being replaced with fresh troops. It was extremely effective at holding ground or at keeping an enemy army's attention while other units moved into position for a flank attack. [1]
External Links
Edit
References
Ad blocker interference detected!
Wikia is a free-to-use site that makes money from advertising. We have a modified experience for viewers using ad blockers

Wikia is not accessible if you've made further modifications. Remove the custom ad blocker rule(s) and the page will load as expected.