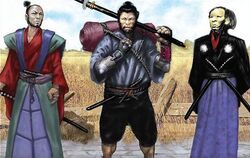 The Iron Gauntlet Brotherhood was an Otokodate formed by battered and scarred ronin veterans, survivors of other ronin groups that have been wiped out by one force or another. In battle, they were utterly ruthless and without hesitation. [1]
Known Technique
Edit
External Links
Edit
References
↑ Enemies of the Empire, p. 204
Ad blocker interference detected!
Wikia is a free-to-use site that makes money from advertising. We have a modified experience for viewers using ad blockers

Wikia is not accessible if you've made further modifications. Remove the custom ad blocker rule(s) and the page will load as expected.