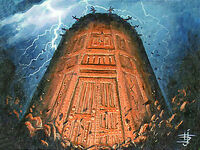 The Iron Citadel was a Mastery 5 maho spell which summoned a castle crafted of black iron, the size of a large shiro or kyuden. The citadel was up to ten stories in height, lined with devious traps within it, twisting passageways, and doors that opened only at the command of the caster. So long as the scroll remained within the citadel, the castle stood eternal, otherwise it would quicly collapse. This spell was originally used by Isawa to build and repair the walls of Gisei Toshi. [1]
References
↑ Time of the Void, pp. 123-124
Ad blocker interference detected!
Wikia is a free-to-use site that makes money from advertising. We have a modified experience for viewers using ad blockers

Wikia is not accessible if you've made further modifications. Remove the custom ad blocker rule(s) and the page will load as expected.