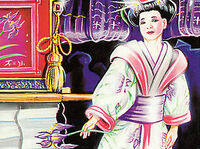 The Iris Festival, the Celebration of Iris Flowers, [1] was a festival from very early in Rokugan's ancient history. [2] The long, narrow leaves of the iris flower were associated with the sharp blades of a sword, and many Rokugani placed iris leaves in boys' baths to give them a martial spirit. [3] The Iris Festival was a celebration not just of children but of what children represented: purity, promise, and hope for the future. [4]
Doll/Kite Festival
Edit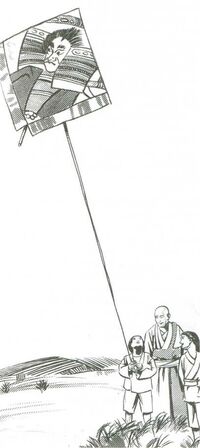 Celebrated on the the twenty-fifth day of the Month of the Serpent, it was also known as Doll Festival, where girls showed their dolls, and the boys flied their kites. Originally only for girls it was also known as Kite Festival when male children joined in the festivities. The young girls wearing green kimonos arranged their dolls as if they were Imperial Courtiers, representing emperor, empress, attendants, and musicians on a tiered stand in their homes. [5] Children of both genders received expensive gifts from their families, things they would need as adults, such as weapons or court kimonos. [3]
Otosan Uchi
Edit
A famous go tournament was held each year at Otosan Uchi during the festival. [6]
External Links
Edit
References
Ad blocker interference detected!
Wikia is a free-to-use site that makes money from advertising. We have a modified experience for viewers using ad blockers

Wikia is not accessible if you've made further modifications. Remove the custom ad blocker rule(s) and the page will load as expected.