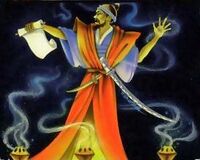 Incense of Concentration was an Asahina fetish, [1] a block of special incense [2] made of a secret mix of five substances designed to evoke the memory of the five Elements. [3] When burned, the resulting smoke had beneficial properties for those who inhaled it while mediating. [4]
Enhanced
Edit
During the War of Spirits the Incense of Concentration was greatly improved by Asahina Tsukiyoka. The incense she made could expand the mind and enhance the powers of a shugenja. When burned in the presence of a shugenja, Incense of Concentration allowed one to participate in ritual magic to a much greater effect. [5] It facilitated a complex Phoenix ritual designed to allow returned spirits in Rokugan to become mortal once again. [4]
External Links
Edit
References
Ad blocker interference detected!
Wikia is a free-to-use site that makes money from advertising. We have a modified experience for viewers using ad blockers

Wikia is not accessible if you've made further modifications. Remove the custom ad blocker rule(s) and the page will load as expected.