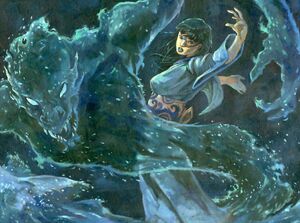 Importune Kami was a Mastery 2 Universal spell [1] which allowed the shugenja to call upon a kami dwelling within a nemuranai, which would cast a spell in return for a favor from the caster. Air kami's requests usually involved overcoming an obstacle, Earth kami requested a show of strength or something involving hard labor, Fire kami requested the destruction of some item, and the Water kami requested the answer to a riddle. [2]
External Links
Edit
References
Ad blocker interference detected!
Wikia is a free-to-use site that makes money from advertising. We have a modified experience for viewers using ad blockers

Wikia is not accessible if you've made further modifications. Remove the custom ad blocker rule(s) and the page will load as expected.