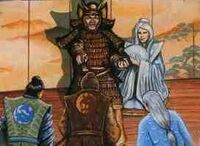 An Imperial edict or Imperial decree was an order by the Emperor and was considered inviolate by Rokugani law. Imperial edicts often had powerful, long-lasting effects on Rokugan, its society, and its culture.
Among the only edicts given by multiple Emperors were:
Imperial Bureaucracy
Edit
The Imperial Bureaucracy appointed the Department of Edicts to ensure the effective promulgation of Imperial decrees throughout Rokugan. [1]
Important Imperial edicts
Edit
Imperial Edicts with unknown dates
Edit
External Links
Edit
References
Ad blocker interference detected!
Wikia is a free-to-use site that makes money from advertising. We have a modified experience for viewers using ad blockers

Wikia is not accessible if you've made further modifications. Remove the custom ad blocker rule(s) and the page will load as expected.