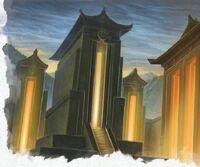 The Imperial Treasurer was a new office in the government of the Emperor of Rokugan created in 1170 during the first day of the reign of Iweko I. The position was created so as to remove some of the Emerald Champion's less important duties, as overseeing the management of taxes and the allocation of Imperial funds. [1] He was in charge of the Ministry of Exchange. [2] The Imperial Treasury was built in the capital, Toshi Ranbo. [3]
"The position of Imperial Treasurer shall be created, in order to supervise the security and distribution of the throne's wealth."
-The New Emperor, Iweko I
[4]
Imperial Treasurers
Edit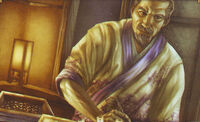 References
Ad blocker interference detected!
Wikia is a free-to-use site that makes money from advertising. We have a modified experience for viewers using ad blockers

Wikia is not accessible if you've made further modifications. Remove the custom ad blocker rule(s) and the page will load as expected.