Imperial Standard 
Created by:
Hantei
First used by:
Unknown
Currently in the possession of:
Unknown
Nemuranai
The Imperial Standard was said it was created by Hantei himself and it held a small portion of the essence of the Kami. [1]
Appearance
Edit
This nemuranai was shaped in the form of a rectangular flag. The standard was made of the purest white silk and could never be soiled by normal means, so it was always clean and vibrant. The Chrysanthemum flower of the Imperial Families was woven upon it in golden threads. [1] It was used as flag for the Imperial Barge, [2] and it was always the largest banner present at the Imperial Winter Court, hung directly behind the Emperor's dais. [3]
Abilities
Edit
The J'uma Jirushi remained one of the most cherished possessions of the Imperial Court, for not only was the Imperial Standard imbued with potent magic enough to boost the moral of those who served the Emperor directly, but it was also a distinctive symbol of the Emperors of Rokugan. [1]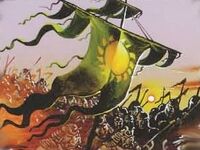 Toturi III
Edit
In 1168 Hiruma Sakimi participated in the Battle of the Tomb, where she saved the Imperial Standard of the Emperor Toturi III from falling onto the Tainted dirt of the Shadowlands. [4]
External Links
Edit
References
↑ Roleplaying in the Emerald Empire, p. 209
↑ Sword and Fan, p. 164
Ad blocker interference detected!
Wikia is a free-to-use site that makes money from advertising. We have a modified experience for viewers using ad blockers

Wikia is not accessible if you've made further modifications. Remove the custom ad blocker rule(s) and the page will load as expected.