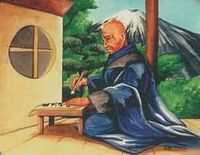 Imperial Scribes were people who wrote books or documents by hand to help the Emperor to keep track of their records, [1] or writing the invitations to Emperor's winter court. [2]
They were the only people aside from the Emperors themselves who were allowed to read the Wisdom of the Heavens, the final words spoken by each Emperor.[1]
Known Imperial Scribes
Edit
See also
Edit
References
↑ Winter Court: Kyuden Seppun, p. 48
↑ Legend of the Five Rings; Third Edition, p. 11
Ad blocker interference detected!
Wikia is a free-to-use site that makes money from advertising. We have a modified experience for viewers using ad blockers

Wikia is not accessible if you've made further modifications. Remove the custom ad blocker rule(s) and the page will load as expected.