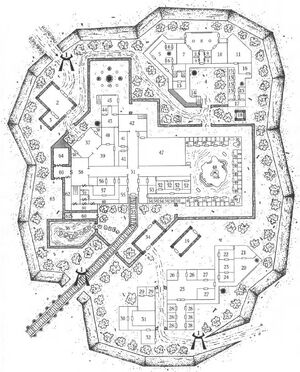 The Imperial Mound occupied the northern third of the Forbidden City. Over it sat the Imperial Palace of Otosan Uchi. Beneath the Mound laid the Imperial Labyrinth. [1]
The gates were jade torii arches set in place by Soshi Shugenja who placed wards on them. To those not of the Hantei Blood the wards provoked hallucinatory effects, and most people left the Imperial Palace with the impression that it was much more convoluted than it really was. [2]
Principal Buildings
Edit
Gates onto the Imperial Mound
References
Ad blocker interference detected!
Wikia is a free-to-use site that makes money from advertising. We have a modified experience for viewers using ad blockers

Wikia is not accessible if you've made further modifications. Remove the custom ad blocker rule(s) and the page will load as expected.