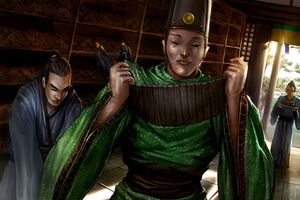 The Imperial Histories, oversaw by the Imperial Chancellor, was the repository for the legal documents, proclamations, edicts, missives, and records produced by the entire Imperial Bureaucracy. [1]
Appearance
Edit
Also known as the Imperial Libraries, it was a large and imposing library which stood just outside of the main grounds of Kyuden Seppun, entered by a great gateway with statues of guardian Fu Lions standing to either side. It was filled with ancient and rare books, especially those dealing with historical or religious topics. [2]
Other Contents
Edit
The Seppun gathered poems associated to the Hantei, relating affairs of the heart or describing events or even the natural landscape. They gave valuable information about the consciousness and feelings or Rokugan's past instead cold, historical facts. [3] These librarians were concerned with preserving original copies of ancient texts, particularly those of historical and artistic value. They included the actual poetry written by Hantei himself, a vast array of documents of the Hantei Dynasty, and even the famous teatrise "My Mother, the World". [2]
Miya Hatori built a shrine devoted to Tengen, the Fortune of the Literature, which housed the Imperial Histories. [4]
Known Imperial Historians
Edit
References
Ad blocker interference detected!
Wikia is a free-to-use site that makes money from advertising. We have a modified experience for viewers using ad blockers

Wikia is not accessible if you've made further modifications. Remove the custom ad blocker rule(s) and the page will load as expected.