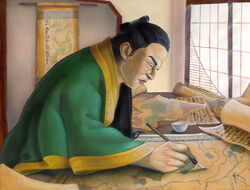 The Imperial Cartographers, often members of the Otomo or Miya families, [1] were charged with maintaining the maps of the Empire. The Imperial maps were considered infallible because, according to an Imperial edict, nothing in the Empire truly existed if it was not recorded on the Imperial maps. [2] The original maps were kept in the Imperial City, but copies were available for any samurai who desired to go there and obtain them. [3] They were oversaw by the Ministry of Territories. [4]
Training
Edit
Few young samurai found their place among the cartographers, but a cartographer would always require the assistance of several samurai when exploring rough lands. The cartographers had only a limited travel authorization, and would often fall victim to bandit attack. A less common threat was that of the gaijin barbarians in the northern and western borders, and the occasional Shadowlands creature when mapping in the south. [2]
External Links
Edit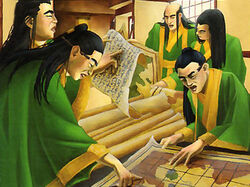 References
Ad blocker interference detected!
Wikia is a free-to-use site that makes money from advertising. We have a modified experience for viewers using ad blockers

Wikia is not accessible if you've made further modifications. Remove the custom ad blocker rule(s) and the page will load as expected.