Imbalances is a fiction written by Nancy Sauer and edited by Fred Wan. It was first released on the Alderac Forums on the 2nd of February 2007. [2]
Annotated Story
Edit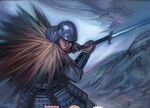 It opens upon the chui Daidoji Yaichiro and his gunso Daidoji Gempachi on night watch on the front lines against the Dragon Clan. A messenger from Silk Point arrives to inform them that a "howler" is approaching their position. The term howler is used about members of the Hitomi family who have been charging the Crane lines alone. The lone tattooed monk is easily dispatched by the Daidoji.
In the next scene Hitomi Daimyo Hitomi Kagetora is investigating why so many of the Hitomi stationed at the front lines are sent out alone. From Mirumoto Etsuya he learns that they are not sent out, but in fact charge out against orders. Kagetora becomes increasingly angry at this.
In Shiro Mirumoto, Mirumoto Daimyo Mirumoto Mareshi and Kitsuki Daimyo Kitsuki Iweko are discussing Mareshi's recent elevation to the daimyoship. They enter a room where the Tamori Daimyo Tamori Shaitung informs them about the Khan's march upon the capital. Mareshi and Iweko inform Shaitung about the irrattic behaviour of the Hitomi and Hoshi monks. The Dragon Clan Champion Togashi Satsu enters, and expresses his concerns about the monks. The three daimyo offer to aid their champion in whatever way he needs to uncover why the three orders are acting peculiar.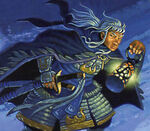 The next scene has Doji Domotai pouring over reports of the Unicorn progress and sacking of Kyuden Ikoma. She is also waiting for Daidoji Kikaze to arrive. When he does she begins asking him about Shiro Giji. Kikaze tells her about the Daidoji Harriers, and Domotai is outraged about their existance. Domotai orders Kikaze to disband the Harriers immediately.
Later in a nearby dojo Kikaze is practicing his fighting skills, venting his anger from his meeting with Domotai. Kakita Matabei, the commander of the Empress Guard enters and offers to spar with Kikaze, which Kikaze accepts.
Characters
Edit
Not Present, But Mentioned
Edit
Relevant Tournament Results
Edit
Ad blocker interference detected!
Wikia is a free-to-use site that makes money from advertising. We have a modified experience for viewers using ad blockers

Wikia is not accessible if you've made further modifications. Remove the custom ad blocker rule(s) and the page will load as expected.