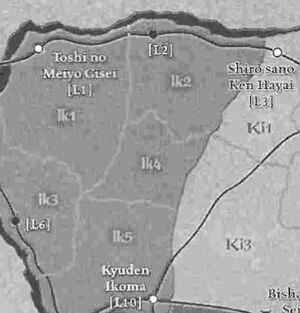 The Ikota province (Ik4) was one of the eastern Ikoma provinces. It was bordered in the west by the Gisei province (Ik1), in the north by the Eiyu province (Ik2), in the east by the Dairiki province (Ki3), being enveloped in the south by the the Gunsho province (Ik5). [1] Its most notable holding were the Great Hall of Records and Shiro Kyube. [2]
References
Ad blocker interference detected!
Wikia is a free-to-use site that makes money from advertising. We have a modified experience for viewers using ad blockers

Wikia is not accessible if you've made further modifications. Remove the custom ad blocker rule(s) and the page will load as expected.