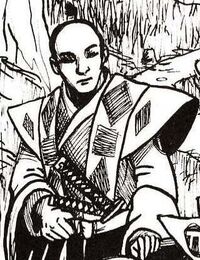 Ikoma Tsuge a bushi tactician of the Lion Clan.
Thwarted Destiny
Edit
Tsuge was the quiet and timid son of a proud historian who wished his son to become a leader of men in battles. Tsuge's parents were murdered when he was only twelve, when he was still enrolled in the Akodo War College. When he finished he began his service under his grandfather Ikoma Sukemi, a kindly old bard. For an unknown reason Sukemi had brought shame to his family, so none from the Lion would have anything to do with Tsuge as a result. [1]
Tsuge traveled beside his grandparent, from one minor estate to another. When he was in court courtiers of other clans feared him, a bushi trained to kill. However, Tsuge did not notice it. In this way Tsuge could serve his clan when others could not. [1]
Tsuge believed his ancestors would guide him a bride, so he refused any proposed marriage, as once the matchmaker Doji Suko did. [1]
See Also
Edit
References