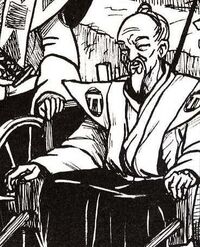 Ikoma Sukemi was the grandfather of Ikoma Tsuge. He was a kind old man, but assigned tasks well below his station, spending his time as a liason in on of the most backwater houses in Lion lands. The cause of the shame Sukemi brought to his family was unknown. [1]
While journeying to assist to a wedding, the old omoidasu peacefully passed away. [2]
References
Ad blocker interference detected!
Wikia is a free-to-use site that makes money from advertising. We have a modified experience for viewers using ad blockers

Wikia is not accessible if you've made further modifications. Remove the custom ad blocker rule(s) and the page will load as expected.