Ikoma Shika was a bushi and scout of the Lion Clan who lived in the late twelfth, early thirteenth century. [1]
Attuned with the Natural World
Edit
Shika moved in the forests as the kitsune, a wild in nature. [2] She was never a strong student, but the Lion saw great aptitude and they allowed her to nurture her understanding of the wilderness in order to gain advantage from it. [3]
Ki-Rin's Path Assailants
Edit
Shika was the first who saw the remnants of a Unicorn caravan in the Ki-Rin's Path, attacked by unknown assailants. [4] Her time among the Colonies and hunting the Yodotai added deadly experience to her prodigious talent. [5]
A Matter of Honor
Edit
In 1199 a Crab army marched against the Lion to resolve a matter of honor, which involved a slight against his Clan's honor for the appearance of an oni of the Shadowlands, Minikui no Oni, within the Lion lands. The Naga marched alongside the Crab, as Shika saw by herself. [6]
External Links
Edit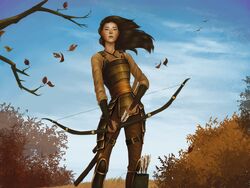 References
Ad blocker interference detected!
Wikia is a free-to-use site that makes money from advertising. We have a modified experience for viewers using ad blockers

Wikia is not accessible if you've made further modifications. Remove the custom ad blocker rule(s) and the page will load as expected.