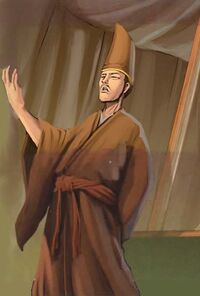 Ikoma Ryudo was a courtier of the Lion Clan.
Hatamoto
Edit
Ryudo was the hatamoto of Akodo Tsudoken. He ensured that Tsudoken would have whatever information he required concerning his officers and staff.[1]
Imperial Court
Edit
Ryudo was appointed to the Imperial Court. In 1171 he began a heated discussion with Bayushi Kindebu, followed by the Scorpion with harsh words toward Asahina Beniha. The Asahina Daimyo attracted the attention of the Imperial Chancellor Bayushi Hisoka when word that the Scorpion had had a border incident with the Crane, breaking an Empress Imperial Edict. Hisoka stopped Kindebu's attitude and took him to a private meeting to reprimand him. [2]
External Links
Edit
References