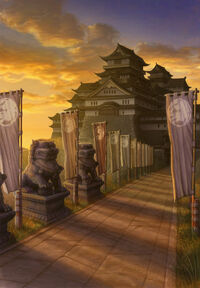 The Venerable Plains of the Ikoma were the fertile and sacred lands surrounding Kyuden Ikoma, [1] and they extended to the north until Toshi no Meiyo Gisei, in the Gunsho and Ikota provinces. [2] The Lion had some modest horse herds, and maintained pasturage for them there. [3]
Defensive Strognholds
Edit
The plains were dotted throughout with small towers, interspersed with more widely spaced stronger fortifications. Squadrons stationed in each of these strongpoints could dispatch both messages and signals to each other in case of alarm, enabling swift mobilization and counterattack. [2]
External Links
Edit
References
↑ Legend of the Five Rings; Fourth Edition, p. 345
↑ Emerald Empire; Fourth Edition, p. 23
Ad blocker interference detected!
Wikia is a free-to-use site that makes money from advertising. We have a modified experience for viewers using ad blockers

Wikia is not accessible if you've made further modifications. Remove the custom ad blocker rule(s) and the page will load as expected.