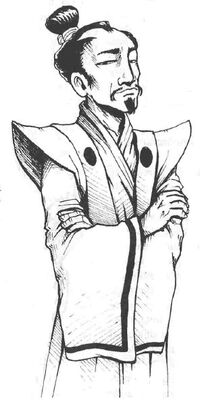 Ikoma Katsu was a young and ambitious samurai. He was yoriki of Matsu Ino despite he doubted about the honor of his Lord. Ino had inherited his brother's lands after he died in a strange battle against the Crane. He courted a newcomer, Shosuro Kujiko, but she eventually selected Kakita Hachi as her fiance. Both disappeared one day and no one knew what happened to them. [1]
Ino the betrayer
Edit
Hachi was detained and found guilty of the death of Kujiko. He made accusation against his lord, Kakita Hojin, and told he had ordered the murder to keep hidden a dishonorable bargain with Ino, supposedly a betrayer to his brother Matsu Chonoku. Because Hachi was a samurai of lower station than Ino his testimony was dismissed. [2]
Lord of Suboten Castle
Edit
After Ino was involved in the death of his daimyo [3] in 1122 [4] he died and his lands were passed to Katsu, [5] making him Suboten Castle's Lord. [6]
See also
Edit
References
Ad blocker interference detected!
Wikia is a free-to-use site that makes money from advertising. We have a modified experience for viewers using ad blockers

Wikia is not accessible if you've made further modifications. Remove the custom ad blocker rule(s) and the page will load as expected.