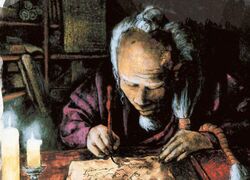 Ikoma Kaoku was a Historian of the Lion Clan.
In 1119 Kaoku instructed Miya Yumi, niece of the Miya Daimyo Miya Yoto, in the history and law of Rokugan. [1]
Ikoma Records
Edit
Kaoku was appointed as the chief librarian of the Ikoma Histories. He dedicated his life to building a reference system that was easier to use during six decades. Many criticized Kaoku's work, but Lion Clan Champion Akodo Toturi silenced those complaints with a sanction for him to continue. [2]
Winter Court - 1123
Edit
In 1123 Kaoku wrote a small text of the Empire's past for the Winter Court at Kyuden Seppun. [3]
Clan War
Edit
Kaoku sometime after the Second Day of Thunder, wrote a letter to an unnamed friend. In this letter he explained that he had collected various correspondances sent during the time of the Scorpion Coup and he hoped that, in the wake of the return of Fu Leng, the letters could shed some light on the true events of the Coup and Clan War. [4]
Toturi's Return
Edit
Kaoku was the historian who noted down the victory of Bayushi Aramoro in the contest held by Toturi known as the "Gift of the Emperor". [5]
Ikoma family excuses Lion Corruption
Edit
Kaoku as other Ikoma excused the Kitsu for their corruption, a obliged sacrifice for the good of the Lion Clan. [6] [7]
External Links
Edit
References
Ad blocker interference detected!
Wikia is a free-to-use site that makes money from advertising. We have a modified experience for viewers using ad blockers

Wikia is not accessible if you've made further modifications. Remove the custom ad blocker rule(s) and the page will load as expected.