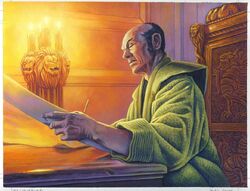 Ikoma Itagi was a courtier of the Lion Clan.
Questioning Loyalties
Edit
Itagi was greatly concerned with settling the question of where the loyalty of his Clan lies - to the Emperor, or the Empire? This debate went back at least as far as the Clan War and the divide between Ikoma Tsanuri and Kitsu Motso, though it resurfaced during the War of Spirits and again in the contemporary era with the rivalry between Toturi III and Shogun Kaneka. [1]
External Links
Edit
References
Ad blocker interference detected!
Wikia is a free-to-use site that makes money from advertising. We have a modified experience for viewers using ad blockers

Wikia is not accessible if you've made further modifications. Remove the custom ad blocker rule(s) and the page will load as expected.