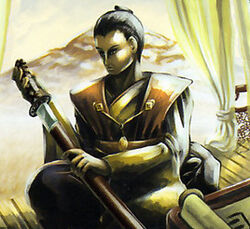 Ikoma Hodota was a courtier and poet of the Lion Clan.
Hodota was attached as an omoidasu to the Lion forces that occupied the village of Kudo in 1170. The leader of the village, Usagi Oteko, resisted the transfer of control and insulted Hodota. Hodota accepted what he viewed to be a challenge to a duel. The two duelled, but the result of the duel was unknown. [1] The Empress Iweko I ordered the return of the city to the Hare, filling Hodota's heart with anger. He returned to his life as simple courtier, eagerly seeking motivations to duel to death Minor Clan samurai. [2]
See also
Edit
External Links
Edit
References
↑ Masters of Court Web Supplement, pp. 5-6
Ad blocker interference detected!
Wikia is a free-to-use site that makes money from advertising. We have a modified experience for viewers using ad blockers

Wikia is not accessible if you've made further modifications. Remove the custom ad blocker rule(s) and the page will load as expected.