Ikoma Ayumu was a bushi tactician of the Lion Clan.
Destroyer War
Edit
Ayumu fought in the Destroyer War. [1] Ayumu's arm was lost in a confrontation with Daigotsu Hotako, who had turned on her Lion allies after defeating one of the Destroyers' ironclad units. Ayumu was tainted by his wound. [2]
Obsidian Champion
Edit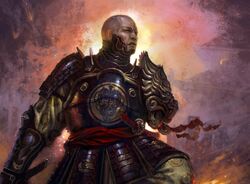 Ayumu sought and found Daigotsu Hotako, the Obsidian Champion, killing her in personal duel. He refused to become the new champion. [2]
Retirement
Edit
Ayumu and his family were tasked by the Ruby Champion Tsuruchi Nobukatsu to guard the weapons, Mukizo and her kama, and trappings of Hotako, until the time when Jade Magistrates deemed them usable in service to the Empire. Ayumu guarded them in the newly built Shrine of the Jade Sun, [2] within the Temple of Vigil, and he remained there as caretaker. [3]
Finding a Replacement
Edit
In 1198 Ayumu managed to kill a young Chuda Daimyo and his Maho-tsukai when they attempted to seize Mukizo. Decades devoted to guarding Mukizo, had taken their toll on the man's body and mind. An aged man, Ayumu decided that he would find a person who honor was stronger than steel, one who had sinned and prayed for redemption. [3] Ayumu visited the Colonies during the Siege of the Second City. Upon his return he was met by Ikoma Shikuza, who considered Ayumu a hero. [4] Tsuruchi Yashiro was the one he found worthy, and in the Colonies, Yaishiro continued to watch over the cursed blades. [5]
External Links
Edit
References
Ad blocker interference detected!
Wikia is a free-to-use site that makes money from advertising. We have a modified experience for viewers using ad blockers

Wikia is not accessible if you've made further modifications. Remove the custom ad blocker rule(s) and the page will load as expected.