Ikoma Aimi 
 
Born:
Unknown 
Died:
Unknown 
Spouse:
Un-named samurai 
Children:
Un-named son
People
Ikoma Aimi was a courtier and sensei of the Lion Clan.
Aimi was considered one of master of go in Rokugan. [1] She played a game of go through missives with her former pupil, Shiba Iaimiko, who had been assigned as yojimbo to a shugenja in the Colonies, near its capital the Second City. [2] Iaimiko told of the amusing games of the Ivory Kingdoms, as the pachisi, [3] while Aimi told of Yodotai maneuvers. [4]
Imperial Court
Edit
Aimi attended the Imperial Court, where performances about happenings in the Colonies were displayed. She met other courtiers there as Susumu Kuroko. [5]
Winter Court - 1199
Edit
In 1199 Aimi attended Imperial Winter Court at Toshi Ranbo. She had given up her only son to the Scorpion to appease them, for a tremendous faux pas. Aimi eventually met Yasuki Aitoko, and began to share a special bond. Both she and Aitoko were married, and they had done nothing dishonorable, nothing to discredit either their spouses or their clans. This year the Imperial Library burned, and Aitoko died when he attempted to save the knowledge held there. Shortly after the reconstruction began, under her careful watch. [6]
Earning Unicorn Enmity
Edit
In 1200 Aimi suggested that the Utaku steeds might become the breeding stock for the Imperial Legions, but her proposal was dismissed by the new Emperor Iweko II. Aimi earned the enmity of the Unicorn Clan as well as of their representative, Utaku Sakiko. [7]
External Links
Edit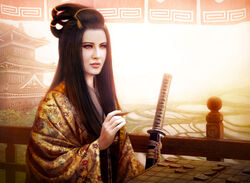 References
Ad blocker interference detected!
Wikia is a free-to-use site that makes money from advertising. We have a modified experience for viewers using ad blockers

Wikia is not accessible if you've made further modifications. Remove the custom ad blocker rule(s) and the page will load as expected.