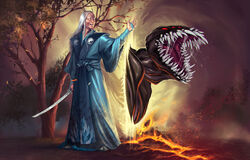 Ikikashi was a former shugenja of the Crane Clan who fell to the Shadowlands as an Oni Summoner.
Rise pof Jigoku
Edit
Ikikashi met the Spider Clan Champion Daigotsu Kanpeki, gaining his trust. Some believed he was who summoned an oni during the Imperial Court at Toshi Ranbo. Ikikashi was instrumental in the destruction of the Second Seal. [1]
External Links
Edit
References
Ad blocker interference detected!
Wikia is a free-to-use site that makes money from advertising. We have a modified experience for viewers using ad blockers

Wikia is not accessible if you've made further modifications. Remove the custom ad blocker rule(s) and the page will load as expected.