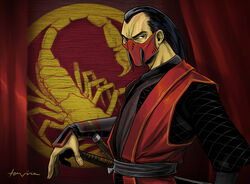 Bayushi Darisu was a courtier, magistrate and sycophant of the Scorpion Clan who retired as the monk of the Brotherhood of Shinsei, Ifedayo.
Courtier
Edit
Darisu as courtier posed as a sycophantic, a coward, a lickspittle who obtained his position through flattery and rode in the shadow of his betters. [1]
Darisu eventually retired as a monk named Ifedayo, but still he served the Scorpion. In 1199 he was one of the attendants of the Imperial Winter Court at Toshi Ranbo. Ifedayo uncovered a traitor, the courier of the Scorpion Embassy Todoke. Under torture the courier told he had been blackmailed, forced by those who threatened his family. Soshi Yorimi used her magical gifts to confirm his words, and a guard ended the suffering of Todoke. [1]
Ifedayo was one of the many teachers of Kaiko, daughter of his Lord Bayushi Nitoshi. [2]
External Links
Edit
References