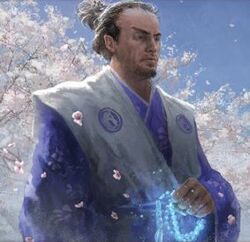 Ide Takeru was a member of the Unicorn Clan, karo of the Khan Shinjo Min-Hee and the Unicorn Clan Champion Moto Naleesh. [1] He had watched them grow together as a youth, and had served them both into adulthood. [2]
Overtures to the Spider Clan
Edit
In 1186 the Empress Iweko I confirmed Daigotsu Kanpeki as Spider Clan Champion. His first political movement was to make overtures to the Unicorn, which were accepted by Naleesh. [3]
Broken Betrothal
Edit
In 1198 Takeru and Naleesh departed from Shiro Moto to Shiro Mirumoto lands, to meet Mirumoto Shikei, the Dragon Clan Champion betrothed to his lady. [1]  The engagement had carried on for over fifteen years now, and for the same time the negotiations between the clans had stalemated. Shikei had asked the Otomo which champion should leave his or her clan in the marriage. After the Imperials judged that Shikei should fold into the Unicorn Clan, the Dragon Champion refused the ruling, and broke the engagement. [4]
Seeking Retribution
Edit
Consequences were expected, but Takeru and Min-hee would cooperate by attempting to redress the matter through a personal duel. Takeru came to Dragon and goaded Kitsuki Yoyugi for a fight during a discussion over the control of borderlands. Takeru's plan failed by the timely arrival of a personal messenger of Mirumoto Shikei, who summoned Takeru to his presence. [5]
Dark Naga
Edit
Takeru met the Dragon Champion, who told he was being contacted by the leader of the Dark Naga through the Akasha. He learned it hid at the heart of the Shinomen Mori. Shikei had sent Tamori Yayu to the Shinomen, who was being escorted by an Imperial Legion commanded by Akodo Kano, the Lion Clan Champion's brother. Takeru passed the information to his Clan, who would aid the legionnaires. [6]
Yodotai Threat
Edit
In 1199 the Lion Clan Champion Akodo Dairuko leading an army appeared at Naleesh's court, requesting permission to patrol Ki-Rin's Path. The Unicorn Champion offered her Clan's aid in the Lion scour of the Yodotai threat, which was accepted by Dairuko. [7]
External Links
Edit
References
Ad blocker interference detected!
Wikia is a free-to-use site that makes money from advertising. We have a modified experience for viewers using ad blockers

Wikia is not accessible if you've made further modifications. Remove the custom ad blocker rule(s) and the page will load as expected.