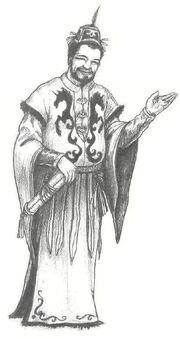 Ide Suari was an Ide Emissary who was born in the Lands of Darkness during the Ki-Rin's Exodus. [1]
Ki-Rin's Exile
Edit
With no gaijin nations to practice his skills, Suari honed his art in front of tapestries of near-forgotten Rokugani landscapes. When they reached the Shadowlands, his family and sensei fell victim to the Taint, but Suari was spared any corruption. He guessed that Rokugan was just ahead and persevered in his work. [2]
After the Return of the Ki-Rin, he traveled to Otosan Uchi to present Emperor Hantei XXII with a breeding pair of the Otaku steeds. [3] His actions and diplomacy gained the Emperor's personal support of the newly-returned Unicorn Clan, and immediately preceded the Emperor's decree to halt all hostilities against the Unicorn. [4]
References
↑ Secrets of the Unicorn, p. 34
↑ Secrets of the Unicorn, pp. 34-35
↑ Way of the Unicorn, p. 38
↑ Secrets of the Unicorn, p. 35
Ad blocker interference detected!
Wikia is a free-to-use site that makes money from advertising. We have a modified experience for viewers using ad blockers

Wikia is not accessible if you've made further modifications. Remove the custom ad blocker rule(s) and the page will load as expected.