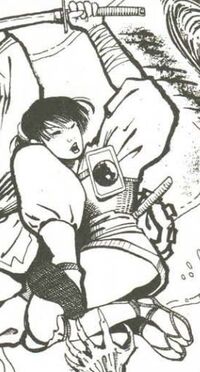 Ide Shimiko Swas a beatiful samurai-ko of the Unicorn Clan.
Kusatte Iru
Edit
Shimiko was sent as student to Shinjo Naohide, who set out one week to see Shadowlands to make Shimiko a tough bushi. There they were attacked by an oni and a goblin party. They sought refugee inside a cave, narrow enough to left the oni outside. They moved on within the cave to realize it was not a cave, tunnels, and rocks, but Kusatte Iru in its slumbering, veins, and flesh. They managed to survive the day using their skills and a Kusari-gama, killing the shadowlands before they could awake the biggest oni ever known. [1]
References
↑ Bearers of Jade, pp. 41-43
Ad blocker interference detected!
Wikia is a free-to-use site that makes money from advertising. We have a modified experience for viewers using ad blockers

Wikia is not accessible if you've made further modifications. Remove the custom ad blocker rule(s) and the page will load as expected.