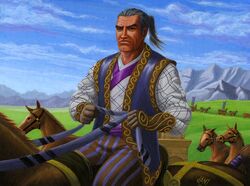 Ide Sadanobu was a bushi and emissary of the Unicorn Clan.
Demeanor
Edit
Sadanobu was prone to wanderings, causing Shinjo Shono to comment at least once that he wondered if Sadanobu could remain in one place. [1]
Caravan Master
Edit
Sadanobu was the most successful of the Ide caravan masters in the middle 12th century. He despised his duty and wished nothing more than a peaceful life as a painter. Because of his great talent with finance and trade, this life was impossible for him. [2]
The Riddle
Edit
When Toturi Sezaru was searching for answers regarding his mother's disappearance after his father's death, the Oracle of Fire gave him a puzzle box to solve instead of a direct answer. Hearing of this, Sadanobu decided to see if he could open it. In his travels, Sadanobu had seen many gaijin puzzles and felt that he might have a unique perspective on the challenge. Sadanobu was unable to open the box, however. [3]
External Links
Edit
References