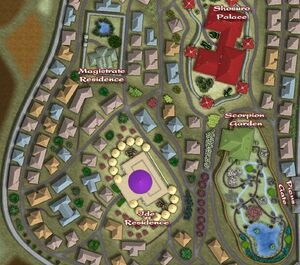 The Ide Residence was a large estate controlled by the Ide at Ryoko Owari Toshi. After they were removed from power it was occupied by the Shinjo. [1]
Appearance
Edit
Built by the Ide in the 10th century, [2] it was located in the new section of the Noble Quarter. The residence had a bulbous roof and encircling wings, which made one of the most strange buildings in the city. [3]
Unicorn Estate
Edit
Prior to the Clan War, the Ide held more influence than any other Unicorn family within the city. During the Opium War the family was largely removed from power. After the war, the Shinjo assumed control of their clan's interests in the city, but the estate retained the family's name. When the Unicorn took control of the city, their leaders moved to the Shosuro Palace, the governor's residence. [1]
References
↑ The Atlas of Rokugan, p. 275
↑ City of Lies: Location Guide, pp. 52-53
Ad blocker interference detected!
Wikia is a free-to-use site that makes money from advertising. We have a modified experience for viewers using ad blockers

Wikia is not accessible if you've made further modifications. Remove the custom ad blocker rule(s) and the page will load as expected.